WILD COUNTRY
ASTRO TECH WIRE CARABINER &
ASTRO QUICKDRAW SETS
The ASTRO is a nifty lightweight biner - 3.5" tall and a mere 29 grams - yet equipped with all the same features of it's larger brother the NITRO. Hot forged for strength and radical shape, the ASTRO is loaded with features: radiused rope positioning grooves, hooded TechWire Gate and easy to hold "I" beam frame. Reverse bend in gate and 22 mm opening makes inserting the rope or clipping a piece an easy affair - sport or trad style. Brillant for racking your cams and reducing the overal bulk and weight of your rack. Bright anodized silver finish, Dyneema quick draws fitted with WC's no slip Tadpole insert. Made in Taiwan.
Always SAVE 10% on 10+ biners or draws!
ASTRO TECH WIRE
wt: 29 g / 1.02 oz
price: $7.50, 10+ $6.75
ASTRO QUICK DRAW 10 cm

wt: 65 g / 2.29 oz

price: $15.00, 10+ $13.50
5/reg: $67.25

ASTRO QUICK DRAW 15 cm

wt: 66 g / 2.36 oz
price: $15.50, 10+ $13.50
5/reg: $84.75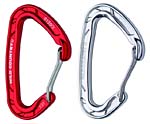 wire