RISE ABOVE - WITH LESS EFFORT

New, improved ASCENSIONS have rope friendly cam, redesigned safety catch and more comfortable hand grip. In stock for ASAP delivery. Add some aiders and daisies too!

Made in France

MILLET LIMITED MXP - state-of-the-art in warmth and exepedition performance designed to keep you warm in the coldest and highest places on Earth. Made in France & Viet Nam.
30% OFF MILLET MXP SERIES
MILLET EVEREST SUMMIT Keep your toes warm while climbing the highest and coldest places on earth! reg: $1000 SALE $788.88-thru May 10th! Made in France
WESTERN MOUNTAINEERING
Beefy bag for 6000M peaks. All the critical features included; full zip, draft tube & full collar - you won't miss a thing except the extra bulk. Made in California.
Includes Storage & Stuff Sack, 6'6" $999
SPRING BREAK SALE!
B.D. X4 OFFSETS
Fingertips fit securely in flares and tapers. So do offset cams! Season your rack this Spring with a set of X4s to protect pods, pockets and pin scars on all-free trade routes and your first (or next) big wall. Cam placements are strongest at their mid-range - you'll be amazed how versatile and indespensible X4 OFFSETS will become.
20% OFF OPEN sTOCK oR 25% OFF A SET oF 6 - tHRU 5/10!
.......................................................................

FIVE TEN GALILEO
Designed for comfort and performance.
size: US 7.5, 9, 10
$150 SALE $89.88


BOREAL CRUX
Just the right balance of sensitivity and precision
size: UK 6.5, 7, 8.5
$135 SALE $78.88


BOREAL LYNX
Ideal for thin face, thin cracks and boudering
size: UK 6, 9.5, 10, 10.5,
11.5 $149 SALE $98.88



SPORTIVA TRANGO EVO Light, warm, technical and comfortable. Goretex weather protection.
size: 45, 45.5
$420 SALE $278.88 .......................................................................



PAY NO MORE!
Mention a competing online offer by an authorized U.S. Dealer for in stock merchandise when you place your order so we can assure the lowest Sale Price. Please provide the url for our confirmation in the Comments Box. Guaranteed!

REPLACE YOUR SLINGS
with new easy-to-clip 12mm Dyneema-Nylon Ultratape™. Manufacturers recommend replacement after 5 years of regular use, a serious fall or visible signs of wear. Endorsed by CAMP, DMM, Trango & Wild Country and others! See RESLING page for details $5.50-10.95 ea
.....................................................................
WE SHIP WORLDWIDE

to APO & FPO and to your home or business via Priority Post and Federal Express - both traceable, insured and quick - usually 4-10 days ARO. If you, a friend or an associate is travelling to the US - we can arrange delivery to hotel, business, post office (Yosemite or elsewhere). Click the Map for additional info, currency converter.

"Like" us on Facebook, post a climbing photo. We'll keep you up to date on NEW Products, Product Safety Advisories and Special Sale
.....................................................................

FROM CRAG TO WALL TO HAUL!

Many climbers use the DESPERADO as their crag bag and load up with a big rack, couple of ropes and collection of shoes plus food and water. Nice to have 2 bivy pads on board (which also pad the pack for hauling), retractable shoulder straps and built in haul cradle. What's different? The DESPERADO is a comfortable carrying pack... that doesn't mind to be hauled. Lifetime Grizzly Guarantee. Made in California.

SPRING BREAK - $125.88 thru 5/10!

CARRY BIG LOADS COMFORTABLY Richly padded shoulder straps covered in thick fleece are neck friendly and cross in the back to stay in place - even when making long reaches. Upper & lower tiers have adjustable cord and tube loops to keep your gear under control and you in balance. 4 sizes are super adjustable for Summer or Winter ascents. Order your T-Shirt size. Lifetime Grizzly Guarantee. Made in California. SPRING BREAK $78.88 thru 5/10!

CONTINUOUS ADJUSTABLE STRAP

gives you more control and allows precise postioning for efficient movement on lead and while following aid pitches. Grab buckle and biner, extend, clip the next placement (all one handed) and tension to support your stance as you move up. Color assorted pairs available. $24.95 ea Made in California.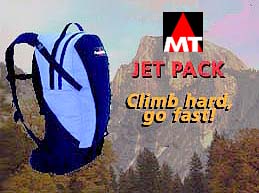 JET PACK iS pERFECTLY sIZED
for every adventure with fit and balance like you've never felt before. Two internal Zip Pockets - for small stuff and your guide book or water bag. 1000d Cordura body w/ double bottom, heavy duty #10 YKK zipper and top and rear daisy chains to clip or lash gear. We've got your back with our Lifetime Grizzly Guarantee! $149-$179 Made in California!

SPRING BREAK - 20% OFF thru 5/10!