SAVE ON ICE PACKAGES...
SALE PRICES ON 2018 ICE TOOL PAIRS DMM APEX reg $478 SALE $384.88
Petzl ERGO reg $599 SALE $478.88
plus add a pair of crampons with additonal 10% savings - FIFO!

THE CLASSIC NEPAL EVO-
Adept at Winter Ice, Alpine Rock. Mixed and Miles of Mountain Travel - Fit Guaranteed!
reg $510 SALE $378.88 / save $130
ARWA ICE, ALPINE & MOUNTAIN
Popular sizes UK9.5-11.5 at special pricing. Warm, comfortable and agile from the trailhead to the summit - and back. 100% dry breathable and warm thanks to DriLine textile lining and Thinsulate. Fit Guaranteed!
Reg: $489 - select sizes: SPECIAL $348.88
9.7mm x 60M LIGHTNING PRO
10.2mm x 60M ELIMINATOR
SAVE BIG + GET A FREE ROPE BAG!
Easy handling and easy to clip. The low bulk, light weight and performace characteristics have made this rope the choice for many high-end endeavors, from sport to wall-in-a-day to alpine routes. Made in the USA.

BLACK DIAMOND - CAMALOT C4's
Now's the time to flush out your rack! Save at least 25% on single pieces plus 10% more when ordering 5 or more- while stock lasts.
Set #1-4 msrp $310 - SALE $218.88 (30%)
Set #0/3-4 msrp $569 - SALE $398.88 (30%)
Open stock: #.3 - .75 $48.88; # 1 - #3 $56.88
# 4 $67.88, # 5 $86.88, # 6 $93.88
Made in the USA
GET SOME FREE STICKERS WITH YOUR ORDER! 1ST ORDER INCENTIVE - TAKE 15% OFF INDIVIDUAL ITEMS Till 04/30

20-25% OFF Rope, Ice Screws & Boots!
..........................................................................
MILLET TRILOGY &
EXPEDITION SERIES CLOTHING, PACKS & SLEEPING BAGS Save a bundle on winter and expedition climbing apparel, sleeping bags and packs. Disounts 30-70% and we'll pay the shipping, Hurry!
..........................................................................
DMM RESLING


By special agreement with DMM, MtnTools is equipped to resling your Dragons, Demons & Torque Nuts w/ factory original materials - now's the time!
..........................................................................

SAVE BIG
on rock shoes, approach shoes and mountain boots in select models & sizes. Deep discounts for style, color and model changes. Fit guarnanteed, performance assured. Hurry for best selection. Call for advice.
..........................................................................
PETZL ANGE

Score a great deal on high end carabiners and draws. Low profile single wire gate clips easy and resists inadvertent opening. No snag design can't "hang up" on bolt hangers, slings or runners. One less thing to fret about and a great reason to charge your entire rack with ANGES. SMALL $9.95 ea, LARGE $10.75 - special @ 20% off

WE SHIP WORLDWIDE

to APO & FPO and to your home or business via Priority Post and Federal Express - both traceable, insured and quick - usually 4-10 days ARO. If you, a friend or an associate is travelling to the US - we can delivery to your hotel, business, post office (Yosemite or anywhere). Click the Map for currency converter.

STAND WITH US!
Access to our public lands and historic climbing areas are threatened! Don't let Congress gut the Antiquites Act and
reduce National Monuments in SW Utah by 80%. Lend your voice and send a donation to the Access Fund in support of a multi -plantiff law suit filed by industry leaders and conservation groups.
...........................................................................
"Like" us on Facebook, post a climbing photo. We'll keep you up to date on NEW Products, Product Safety Advisories and Special Sale

REPLACE YOUR SLINGS

with new easy-to-clip 12mm Dyneema-Nylon Ultratape™ or factory original 15 mm Nylon. Manufacturers recommend replacement after 5 years of regular use, a serious fall or visible signs of wear. Conform your rack to the current color scheme to match new cam purchases. ! Endorsed by CAMP, DMM, Trango & Wild Country and others! See RESLING page for details $5.00-10.95 ea
WARNING

The products we sell may contain one or more chemicals known to the State of California to cause cancer, birth defects or other reproductive harm.
See www.p65warnings.ca.gov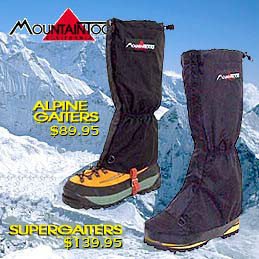 NO MORE COLD TOES
Our GAITERS are built burly for alpinists and expedition climbers. Boost the warmth of any single or double mountain boot with our Insulated SUPERGAITERS ($139.95). Don't need the heat? Check out our bombproof ALPINIST GAITERS - ($89.95) made burly to endure harsh conditions and rocky trails. Conical cut ballistic reinforcements & "crampon quality" neoprene-nylon strap under foot. Like all our stuff, made in USA.

MOUNTAIN TOOLS
VAPOR BARRIER SOCKS


Re-imagined and all-new design, materials and construction to perfect fit, reduce excess material and control slippage. Keep your thermal socks dry and increase foot warmth on your next winter trip, expedition, ice climb... and even soggy early season approaches. Made in California.
VBS $29.95, 2 prs $28 ea

NO BAN ON TRAVEL HERE
Our luggage Is Built Climber Tough™ which doesn't mean a thing - until you need it to! Each size is named for the mission; One Night Stand, Weekend Warrior, Spring Break or World Tour. No matter what we'll get you there and back - in one piece.
Made in California.


THE CALIFORNIA ROLL IS THE ultimate gear organizer. Keep track of your hardware investment and have all the gear you need to rack up - right at your finger tips. Carry from car to crag in your pack or by soft suitcase handles, unbuckle, roll out the tarp to easily choose pieces for the next pitch or route. Get everything pictured - in the CALIFORNIA DREAM RACK!
$89.95 Made in California.

WEB-O-LETTE ANCHOR SLING!
One for each end of your rope.
Simple, easy, bombproof. The original, easy to use equalizing anchor sling - just remember "V + W + 8 = On Belay!"
Lighter & more compact than cord!
Made in California. $23.95-$31.95


PAY NO MORE!
Mention a competing online offer by an authorized U.S. Dealer for in stock merchandise when you place your order so we can assure the lowest Sale Price. Provide the url for our confirmation in the Comments Box. Guaranteed!